INCUBATED MUSHROOM COMPOST
Organic compost

Our product range also features organic compost. The raw materials for organic compost include organic straw, organic chicken litter and natural gypsum.


Supplementary feed

Incubated compost can be given supplementary feed as desired and as required. Soybeans and soybean meal are the basis for supplementary feed. It causes the mushroom to develop further.


Temperature

We make every effort to deliver the compost to the grower at the ideal temperature. If necessary, we cool the compost with ice or CO2.


Spawn species

We let the compost grow with the spawn species at the option of the grower. We work with spawn species for white and chestnut mushrooms.

PRoductION proCESS COLONIZED MUSHROOM COMPOST
Phase 1: composting
---
In the first phase, we make fresh compost. To that end, we mix horse manure, chicken litter, wheat straw and gypsum. We let this mix compost for 6 days at a high temperature in composting bunkers with active floor aeration. At the end of the first phase, we mix the compost from the different bunkers to obtain a compost that is as homogeneous as possible.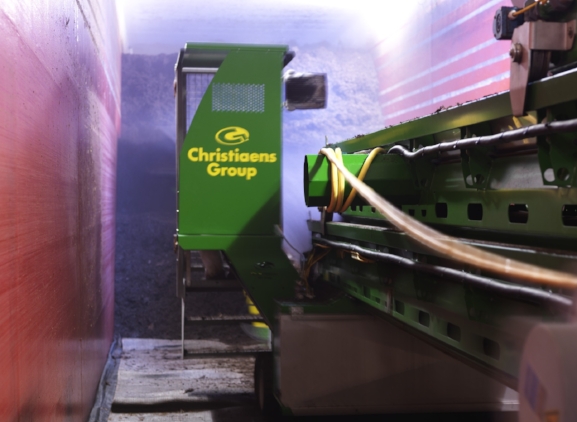 Phase 2: Pasteurize
---
After the composting phase, we bring the fresh compost to insulated tunnels. There the compost pasteurizes for 8 hours at 60°C, followed by 4 days at 40 to 50°C. This process involves the conversion of ammonia into useful proteins. Through a computer-controlled process, we keep the oxygen level high. This way, the process stays aerobic and odour emissions are avoided. This phase has a selective compost as result. In other words, a compost that is best suited for the growth of the mushroom fungus.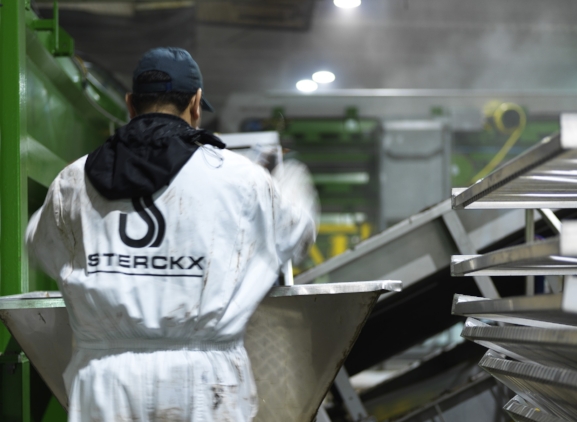 Phase 3: incubation
---
In the final phase, we inoculate the pasteurized compost in sterile conditions with the mushroom mycelium. Then it goes into the incubation tunnel. Incubation occurs at a temperature of 24 to 28°C (the ideal temperature for mushrooms) and lasts at least 15 days. The cooling of the computer-controlled climate system ensures the correct temperature, even on hot summer days, and cools down the compost before delivery. After the incubation, the compost has turned fully white and it already has the typical smell of mushrooms.

INTERESTED IN MUSHROOM COMPOST
CUSTOMIZED OFFERS FOR EVERY GROWER
---
Orders, questions or free information about our mushroom compost? Please do not hesitate to contact us. We are happy to help you with a customized offer.

HENRY BREUKERS
Commercial Director
NV Karel Sterckx can rely on three generations of experience in the production of mushroom compost. Our products are known for their constant and excellent quality.
CUSTOMIZED FOR EVERY GROWER
We deliver our compost 6 days a week, fully customized to the type of grower.
Manual picking
The harvest of mushrooms destined for the fresh market still happens manually and is very labour intensive. We offer different spawn species that result in high-quality mushrooms and are excellently suitable for picking.

Machine cutting
The harvest of mushrooms destined for the processing industry happens mechanically. For growers who cut by machine, we produce spawn species that provide a very high yield and are excellently suitable for cutting.

Delivery for filling machine
For customers who have a filling machine, we optimize the transport with trailers with a walking floor or moving floor.

Unloading on conveyor belt
With specific trailers, we can also unload on the conveyor belt in doses.

We invest continuously in our machine park and in our employees. This way, our solutions remain tailored to the current needs.
Computer-controlled
Our entire process is computer-controlled. This allows us to follow all phases closely, ensuring a consistent quality.

Quality and flexibility
Our team works closely together to provide our customers with an optimal service. Each and every of our employees attach great importance to quality and flexibility.

Sustainability
Throughout our process, we aim for sustainable energy consumption, a rational water consumption and a reduction of transport and waste streams. Also, the process air is purified by a gas washer and a biofilter.