OUR SUSTAINABILITY POLICY
SUSTAINABILITY IS IN THE DNA OF OUR COMPANY
Sustainability runs like a red thread through everything that we do. First of all, by our activity in itself. After all, we do make a product on the basis of residues from agriculture or the food industry that are difficult to process.
That is not the end of it: in all parts of our production process we always look for the most ecological solution.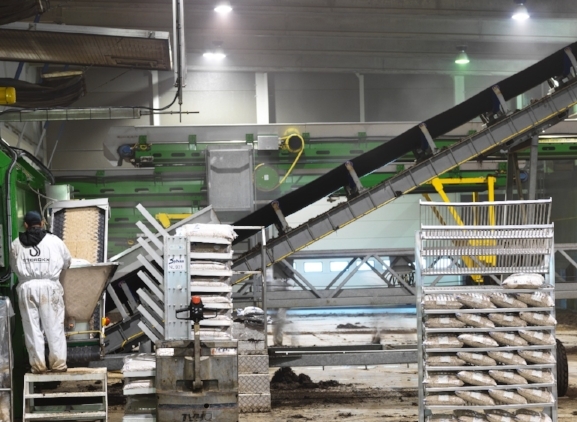 REDUCE WASTE STREAMS
Reducing our waste streams is an important point of our sustainability policy. All our compost is delivered in bulk.

We also consult our suppliers to discuss how we can reduce waste streams together. For example, supplementary feed is always delivered to us in bulk, whereas the mushroom spawn is delivered on reusable stainless steel racks.

RATIONAL WATER USE
---
Producing compost requires a lot of water. That is why we reuse as much rainwater as possible. We collect this 'free' water over the entire area of our company premises and buildings. What if our rainwater reserves run out? Then we use pure surface water from the Roeselare-Leie canal. We do not touch any groundwater.